North American cover art
Release: 1999
Developer: Polyphony Digital
Publisher: SCEA
Genres: Rail shooter, Shoot em up, Sci-fi, Mecha
Welcome back, it's time for another review. It's yet another Playstation game we're looking at today. Let's start off with an introduction; Can you think of a time where a developer that typically makes games under a specific genre, but on a rare occasion they go outside that limit and make something completely different? And that new product turns out to be pretty good? Something like Squaresoft's
Einhander
may come to mind. A
company known primarily for making RPG's but did a 180 turn and output a great title in the process. This is the same case with Polyphony Digital's
Omega Boost
. Known primarily for the
Gran Turismo
racing simulations, they are regarded for being able to push the limits in physics and graphical capabilities in video games. The first
GT
amazed gamers and critics back in 1998 and went on to become the best-selling PS1 game (a feat I still find hard to believe, considering my disinterest in racing sims). Though, later on in the system's lifetime, they worked on another game. This is where
OB
comes in. After doing some research, Polyphony has worked on racing titles such as
Motortoon Grandprix
,
Gran Turismo
, and more recently the
Tourist Trophy
series. All of them are racing games, whether kart racers or simulations. With this data,
Omega Boost
is in fact, the only non-racing game that the studio has ever worked on. And, surprisingly, it's good.
Damn
good. What lies in store is another rare case of a developer being able to go outside they're comfort zone and excel with their new idea. Let's take a look...
Omega Boost is a 3d on-rails shooter, released in 1999 by Sony Computer Entertainment America. You control a mech named after the title of the game, the story involving Omega being launched by a space facility to hunt down and destroy an imposing AI, named Alpha Core, who threatens humanity in the distant future. However the story should be the least of your concerns when playing the game. The game opens with a kickass FMV introduction blasting licensed music, and it actually looks really cool. You can fly around in open environments with 360 degree freedom, as enemies attack in waves. Occasionally there are some on-rails segments, ala Vanark. There is only one weapon at your disposal; a massive laser-machine gun sort of weapon. It can be used in two different methods; simply shooting in spurts or by locking on to enemies. You hold the attack button and hover the crosshairs over enemies and release the button to launch them. This will be the most the most effective way to deal damage. At the beginning you can only lock onto a couple of enemies at a time, but this number increases as you progress through out the game. Navigating in the worlds is a thrill as you can spin, rotate and fly around in all directions. It can become a bit disorienting due to this, but the controls work well enough so that you can always re-adjust your position. As you destroy more enemies, a meter builds for the special move, called the Viper Boost. When the meter builds up enough, you can press the L2 button to do a devestating attack on all enemies, and it looks really cool to watch OB annilhate everything. This attack should be reserved for only the toughest bosses, as some have huge health bars and the meter can take quite a while to fully charge. You can also use a boost at any time by pressing O, which is very helpful for dodging enemy projectiles.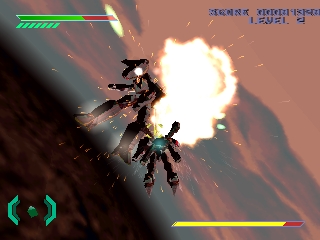 With how the game plays in it's lock-on combat, it's time for another quick tidbit. During development, Polyphony called on outside assistance. They ended up calling in Yusi Yasuhara, who had originally been the lead designer and programmer for Sega's Panzer Dragoon Zwei, an on-rails shooter for the Sega Saturn. Hence the reason why OB turned out similar to Panzer Dragoon, but in a good way. This also marks one of the few times Polyphony has worked with external developers.
Oh, and a pretty interesting fact ; Shoji Kawamori, a mecha designer most well known for his Macross, and Eureka Seven work, designed the mechas for this game! Pretty cool to say the least.
Levels are structured as "zones" and each zone has waves of enemies to fight, as well as a mid-boss and end boss. The zones set in space tend to be a little more disorienting because there is no true "ground" to calibrate to. Though the controls may be funny at first, after about 10 minutes you should have it down.
There's one thing that has to be stated about the visuals; they look absolutely stunning. All the textures look good, though a little dark, but the game is just a treat to view. I will say it's possibly the best looking game I've ever seen on the Playstation. Seriously, it looks that good. Character and enemy models look great, as well as having particle effects and transparencies that stand out. The levels themselves are a bit lacking though, they usually just take place over basic voids of space or somewhere on a planet high in the sky with not much to look at. This doesn't detract from the game, because you're not going to play this just for backgrounds. A majority of the game also runs at 60 FPS, something rarely seen on the platform. The frame rate only enhances it even more, without slowdown or stuttering to be found anywhere. It's silky smooth in action.
I really need to start capturing my own footage/screenshots.
The music is... interesting to say the least. It's a mix of techno, metal music with a bit of tribal thrown in. There's also two licensed tracks featured, from Loudmouth and Static-X respectively, both bands I'm not fond of, but there music sounds okay. It fits the mood of the game, going for a tough, gritty kind of feel. The music is nothing that you'll want to download to your iPod, but it works fine.
Your presented a decent challenge here, as there are 9 stages in total. The game can be beaten rather quickly because of this, and that's the biggest criticism I have. This isn't necessarily a bad thing, in fact it makes for a great title if you're looking for something easy to get into that isn't too long. A perfect pick up and play game. Like the Gran Turismo games, there is a replay feature in the main menu if you wish to watch yourself play through levels. Not really important for this type of game, but it's there.
Due to poor marketing and under-performing sales, Omega Boost quietly faded away, becoming a sleeper hit. The game must have been somewhat popular enough, though: The official soundtrack was released on CD in limited quantities, which have since become incredibly rare, and even action figures were released by Blue Box Toys. They only released figures of Omega Boost and Beta Boost, and a third one of Herbacher was planned, but never ended up being released. Just like the soundtrack, they too are incredibly rare and incredibly expensive, which is too bad, I would love to have one of these.
As for the game itself, it's uncommon, but can be had for around $20-$30. Or just emulate it, burn an iso, however you play your games. It's certainly the best mecha game on Playstation, and deserves to be tried out if you call yourself a fan of shooters or mecha at all. It would have been cool to see this on the upcoming Playstation Classic Console, but because of the licensed music, it's general obscurity, and on top of the fact Sony is generally stupid and cheap, there's no way this will be on there. One can dream I guess.